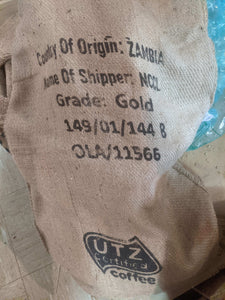 Zambia coffee is almost never found in the United States. It is prized for its juicy fruity notes, much like a Kenya, but is smoother and more full bodied than most Kenyan beans.
This one is from the Ngoli Estate in the Munali Region (there are a chain of foothills known as the Munali Hills running through Zambia). Zambia does not have a department of agriculture that certifies organic products, but Ngoli does use organic farming methods, and they have UTZ certification and RainForestAlliance certification.

The farm is meticulous about only picking the ripe coffee, and then processing it on site. I have found that it needs slightly less heat than you would expect, and the roast tries to race through the middle if you don't pay attention.

My only recommendation for roasting is to give it a medium roast, just at the verge of the second cracks. You'll have a mug of coffee that tastes clean, full bodied, chocolatey, smooth, and cherries. Hint of smoky citrus, slight tartness, a little bit savory, but mostly just chocolate and cherry. We fully experimented with a variety of roast profiles and kept coming back to this one because the darker roasts do begin to burn, and the lighter roasts are somewhat tart. It's not great espresso, but it's excellent as drip coffee.

US Arrival: July 2022
choosing a selection results in a full page refresh