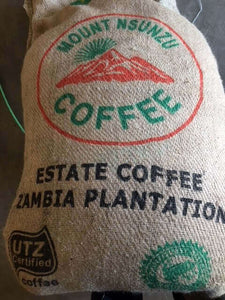 Zambia coffee is almost never found in the United States. They only produce 2000 bags a year, making them barely a speck on the production map (Malawi produces 20,000 bags, Nicacragua 2 milliion, Ethiopia 6 million, etc) Anyway, whoever grew this one really knew what they were doing. We also bought the washed process version of this same coffee, but they roast and taste very differently.
This one is from the Isanya Estate in the Mafinga Hills Region in the northern part of the country up by Tanzania. Zambia does not have a department of agriculture that certifies organic products, but Isanya does use organic farming methods and is Rain Forest Alliance certified. These are the largest beans from their harvest, and sundried to make them fruity.
My only recommendation for roasting is to give it a light roast, much like a natural processed Ethiopia, you don't want it too far out of the first cracks or you will burn it. The cracks start a little late, so if you go by temperature, it's a little higher temperature than you might expect. Ten to 15 seconds out of the 1st cracks you have a mug of coffee that tastes clean, tart blueberry, boozy, with lavender notes. It mellows out as it cools. A couple degrees darker and you get a little bit earthy cocoa with the fruit and floral. I find it to be quite enjoyable, especially for how inexpensive it is! 
US Arrival July 2022
choosing a selection results in a full page refresh