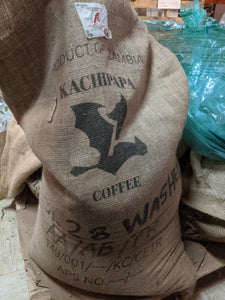 Zambia coffee is almost never found in the United States. It is prized for its chocolate-cherry notes while being smooth and full bodied.
This one is from the Kachipapa Farm in the Serenje Region in the southern part of the country bordering Mozambique and Malawi. The farm has been able to use their profits to help build a clean water system for the community as well as malaria prevention, teacher salaries for the local school, medical stations, and building homes. 
They seem to have been processed very carefully, as they beans look clean and nice, with few defects.
My only recommendation for roasting is to give it a medium roast, just a bit into the second cracks. You'll have a mug of coffee that tastes a little flattened out, but it is clean, full bodied, chocolatey, smooth, and cherries. We experimented with a variety of roast profiles and kept coming back to this one because the darker roasts do begin to burn, and the lighter roasts are somewhat tart and vegetal. But this medium to dark roast is particularly nice when made as espresso or in an aeropress. It takes it from an average coffee to a memorable coffee when you put it through your espresso machine. 
US Arrival June 2021
choosing a selection results in a full page refresh