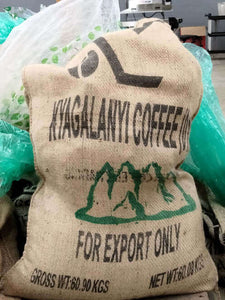 Ugandan coffee is not your "typical African" mug of sweet fruity acidic tones.  It is low acid, even mildly earthy and bold tasting in darker roasts.  But that doesn't mean it's bad coffee! This one comes from a new co-op called "Friends of Mothers" and it is comprised of 50 women producers growing coffee on the slopes of Mt. Elgon in the Bugisu region. They have Organic and Fair Trade certifications.

The beans are not perfectly sorted -- there are some off colored and defects in the mix -- and the coffee doesn't have as much sweetness and complexity as a good lot of Bugisu might have -- but they are very fresh, flavorful, and they taste like Uganda. Raisin, fig, cocoa, sweet, clean.
Very versatile to roast. Give them extra heat because they are big beans from high altitude with high moisture content. My first recommendation is to try a dark roast of 25-30 seconds into rolling second cracks, and you'll have a mug of coffee that tastes like a triple picked premium Sumatra Mandheling.  If that's not your thing, try a medium roast of 10 seconds into second cracks, and you have a rich mug of coffee with raisin cookie, figs, brown sugar, baker's cocoa.  Really nice as a single origin coffee, and really nice as espresso also.  Blend those two roasts together for a melange blend and you get a mug of coffee that appeals to both dark roast fans and lighter roast fans. Almost all of our blends have Uganda in them. Almost all of the "house blends" that we roast for our local coffeeshops are Uganda-based blends. It's a crowd-pleasing, easy-drinking coffee.

We buy more Ugandan coffee than any other origin, and since we buy a tremendous amount of it every year, we get really good pricing on it. Pretty much all of the coffees we sell are a great value, but Uganda ends up arguably being the best value of all of them.
US Arrival January 2023
choosing a selection results in a full page refresh