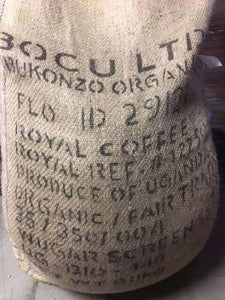 Bukonzo is from Western Uganda, over by Congo, completely on the other side of the country than the famed Bugisu beans. It is grown on one side of the Rwenzori Montains "the mountains of the moon"; and on the other side of the mountains is the Congo Kivu growing region. But the Ugandan side has the advantage of better infrastructure and technology and results in a higher quality export, so it's like a really, really nice Congo. It's been sorted pretty well, but does have some defects if you look closely. Nothing too get too upset though.
Bukonzo is a fair trade and organic certified women's co-op and they meticulously hand pick, hand process, hand sort the beans. This is only the second year that they have been producing/exporting specialty grade coffee, but we will continue to support them for as long as they keep producing this. It is just as easy to roast as Bugisu -- a little less chocolatey and little more fruity, a little bit sweeter, a little bit earthy.
As a light roast, you do have a nice tangy complex mug of coffee, but no one real flavor coming out. Slightly herbal, slightly fruity, slightly acidic. As a medium roast, just barely into the 2nd crack, you will find a smooth sweet fairly straightforward coffee without earthiness, but some fig and raisin notes. At about 30 seconds into the 2nd cracks it makes an awesome dark roast -- the full body, smoothness, chocolate, toasty, deep flavor reminds us of a clean Indonesian coffee, but with its own sweet African twist. At 60 seconds into the 2nd cracks, you can enjoy it as an Italian Roast, and it's a great choice because the big beans hold up very well to the high heat.
US Arrival: July 2019
choosing a selection results in a full page refresh