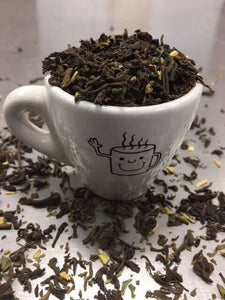 This tea starts out dark and stormy with the pungent pu-erh giving it a musty aroma and dark flavor. The cloves add a layer of excitement and intensity as you sip at it. Then the mint gives a cooling refreshing finish after the storm. A great tea for drizzly days or restless days.
Ingredients: Organic Pu-erh Black Tea, Cloves, Licorice Root, Peppermint
Tasting Notes: Musty, thick mouthfeel, spicy

Hot: 2 tsp of tea for 8oz water. Water temperature 205. Steep for 3-4 minutes.

Approximately 15 tsp in a 1 ounce package.