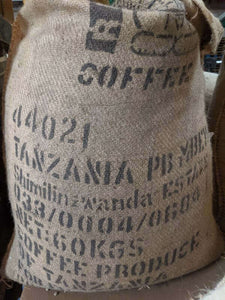 Shimiligwanda Estate is overseen by a German lady, who picks Bourbon varietal coffee that grows in a forest reserve in a remote village. She has recently been taking much better care of the coffee plants and planting new ones which has increased the quality quite a bit over the past couple of years. It's still technically in the Mbeya region which is where we've been finding our favorite Tanzania beans for the past couple of years.
This is a microlot of their peaberries sorted out. As a result, this coffee is more complex and higher grade than a lot of the country's harvest. 
The complexity of this coffee is nice! But my favorite part is the acidity and winey notes -- it reminds me of a Kenya. I'm roasting it like a Kenya and giving it extra heat from about 6 minutes in until it hits 1st cracks, and then slowing it back down again and taking it 20 seconds past the end of the 1st cracks. This accentuates the brightness and body of the coffee. Other than winey flavor, I'm also tasting orange and raspberry. A little bit lighter of roasts is a little bit tart, and darker roasts are a lit bit cocoa and less acidic.  If you let the roast approach the 2nd cracks, the acidity tames out and the complexity is simplified, but you have a medium roast coffee with creamy body and chocolate finish. You really can't go wrong. As a French Roast, you find that it holds up really well -- much the way that a french roasted Kenya would -- and obviously you lose the nuances and acidity of the the lighter roasts, but it makes for a sweet and exotically aromatic french roast.
The coffee came into the US in January 2020.
choosing a selection results in a full page refresh