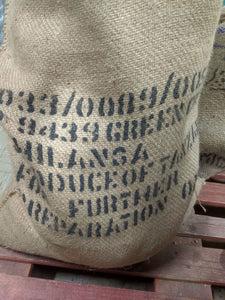 This Tanzania is grown down in the Southwest corner of the country bordering Zambia. Shilanga is both a village where they process the coffee, and the name of the co-op of coffee farmers (roughly 200 farmers). They use the fully-washed process for all of their coffee.
This year's coffee was not as impressive as most years. When we roast it like a Kenya (just 20 seconds out of the 1st cracks), we get a sweet, straight forward coffee that smells like an Ethiopia with strong fruit aromatics. Slight peach (grapefruit if its a few degrees lighter, with some lemon), juicy. We are roasting it like a Kenya to pull out as much acidity as possible.

As you approach 2nd cracks, the acidity tames out and the complexity is simplified, but you have a medium roast coffee with creamier body and a fruity aftertaste. You really can't go wrong. As a French Roast, you find that it holds up really well -- much the way that a french roasted Kenya would -- and obviously you lose the nuances and acidity of the the lighter roasts, but it makes for a sweet and exotically aromatic french roast.
US arrival March 2022

choosing a selection results in a full page refresh