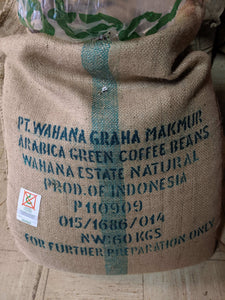 Take a highest grade Sumatran coffee from the Lintong region, dry it on an African bed (Natural Process), and you get a fruity low-acid bean like nothing else out there. Almost all of the coffee out of Indonesia has been de-pulped by soaking it in water, giving it that earthy forest taste that you either love or hate. This bean tastes clean. On top of that, this farm isn't just innovating the processing methods of Sumatra, it's building housing, medical clinics, and schools. It's completely sustainable practices include using organic fertilizers, and recycling the coffee pulp into compost to put back on the fields.
Even though this is sun-dried coffee, darker roasts do have an intriguing full bodied smoky character with distinct blackberry notes that really make it interesting. You might try a batch just at the 2nd cracks to see if that's your thing. Even though its just at the verge of 2nd cracks, it tastes pretty dark (and looks very light!) since it's a natural process coffee. It tastes dark, smoky, full bodied, very sweet, and has an aftertaste of fresh blackberries. It's very different, but still an impressive coffee at this roast level.
I roasted it just barely past the end of the first crack and thought it was rather strange. Being Indonesian, it still has that full body and smoothness one would expect, and it's trying to have a blueberry and watermelon juiciness, but there are other odd savory and herbal notes to it that I couldn't appreciate.
The coffee has been produced consistently for a few years now and is building up quite a reputation. Starbucks sold it as a Black Apron Reserve coffee in 2013 at $30/LB and I've seen it at more specialty shops since then. You can probably roast it better, and at 20% of the cost...
US Arrival: February 2019
choosing a selection results in a full page refresh