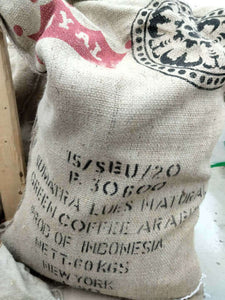 Sumatran coffee is almost always processed via the Wet Hulled (semi-washed) method which gives it all that earthiness and foresty flavors. Because this was a Natural processed coffee instead, it doesn't have any earthiness, but does have fruit and juicy notes but still has a thick mouthfeel. This is a very well sorted lot from the Gayo people in Lues, Indonesia, and it's a treat for Sumatra fans.
I like it best at just 5 to 10 seconds of 2nd cracks and then brewing it as espresso or in aeropress.  You get great crema and body plus fruit and tangy citrus but without sour or smoky flavors.

The lighter roasts are excellent as coffee.  We are tasting tropical fruit, like pineapple and strawberry, and it's floral, and slightly herbal.  It's a fun coffee to try since it's so rare to see a fully natural bean out of Sumatra.

Arrival March 2023
choosing a selection results in a full page refresh