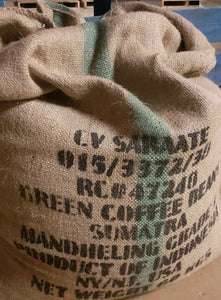 I'll enjoy a good strong dark mug of any Sumatran coffee you throw at me, but this one from the Sara Ate co-op is my favorite right now. The Aceh region has a reputation for more specialty quality and is grown around Lake Toba with an emphasis on better sorting and cleaner offerings.
With this Sumatra, it's clean tasting and chocolatey, and I like to take it even darker than normal. Very full bodied. Sweet aftertaste. Really can take the heat. 
You can stop this roast at second cracks to get the most sweetness and acidity. But we take it dark -- about 75 seconds of 2nd cracks, a real Italian roast. It doesn't taste burnt, it just gets really intense and potent.
Organic and fair trade certified.
US Arrival June 2022
choosing a selection results in a full page refresh