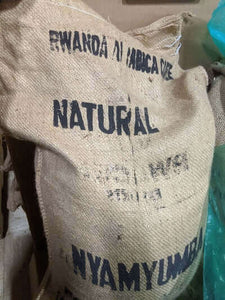 Nyamyumba is a fair trade organic co-op right on Lake Kivu bordering Congo. They have their own milling/washing station and can control their quality. There are 600 farmers in the co-op, and they have regularly won awards for their coffee.
These natural-processed beans remind me of a Tanzania or Kenya more than a Rwanda. There is a sparkling tangerine/grapefruit taste, and even though it is a sundried coffee, it has a full bodied mouthfeel, bright acidity, and ends crisp and clean with no murky or muddled fermented tastes. The importer suggested notes of pomegranate and honey, and we didn't really find those notes in our roasts, but every method gets different results. 
Only a tiny portion of Rwanda coffee is sundried natural, so this isn't a coffee you get to practice on very often. It's much easier to roast than expected, but you definitely want to keep it on the light end of the spectrum. The lightest roasts -- just barely out of the 1st cracks -- had a lot of acidity and complexity and a bit of tartness, but not in a bad way. Our darkest roasts -- 20 seconds later -- tasted almost exactly the same, but with slightly less acidity and a little bit sweeter. 
US Arrival January 2020
choosing a selection results in a full page refresh