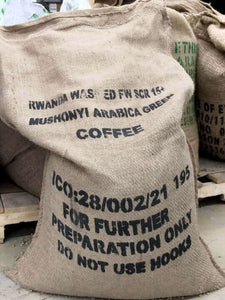 This washed process Rwanda comes from a co-op of 1200 farmers in the Fair Trade Organic Rwacof co-op. They then take the coffee to the Mushyoni washing station to be sorted and processed.
Rwacof grows only red bourbon varietal, at 4500 feet above sea level in the western part of the country, on the border of Democratic Republic of Congo.
The complexity of this coffee is unexpected. It is bright and very fruity. It is winey and bright like a Kenya, has some green apple, a little floral. If you use your imagination or nudge it a couple degrees darker you get some chocolate, and on the lighter end of roasts you taste notes of apple, cranberry, red wine, lime. It has medium body and medium acidity. We roast it not quite into the 2nd cracks to best enjoy the sweetness and fruity notes of this coffee without the acidity being overpowering. This bean makes a great espresso or espresso component when you take it 30 seconds into the 2nd cracks, but otherwise, it's not an ideal coffee for dark roasts.
US Arrival: January 2023.