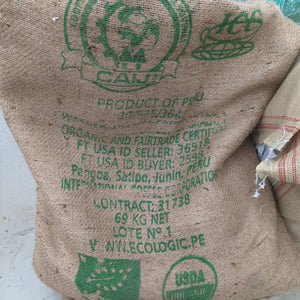 Organic Perus are fairly abundant, and this one has both Organic and Fair Trade certifications on it. There's not much of a premium for organic certification versus the non-organic crops so Peru is a value option for customers who want a South American coffee with official certifications.
The Junin region of Peru is largely rainforest and represents about a quarter of the country's coffee production. It is a straightforward bean, not too complex, but very versatile and easy to roast, and a crowd pleasing taste. There's nothing offensive or distracting about it (not too bright, not too complex, not earthy). At a light roast (full city, 407 degrees) it's smooth and sweet and clean like I expected, but it also has this definite milk chocolate flavor and caramel with floral notes in it. 
Just at 2nd cracks you get a darker chocolate and caramel. Nothing too special, but no one will complain about it.
Here at the shop we sell this as our French roast. We take it at least a minute into 2nd cracks, get it all smoky and oily and it holds up really well. The cocoa taste still comes out, and you can add a little cream to bring out the caramel.
US Arrival May 2023