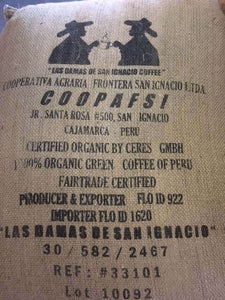 This Peru COOPAFSI was established with gender equality as an important factor when the land was purchased and divided among producers. It is certified fair trade and organic.  They empower and promote "women grown" coffee. These women contribute to the physical and sensory quality of the coffee. They are always managing new projects and developing new ways to improve the lives of their families. Last year, a committee of women became responsible for distributing loans which will enable producers to improve their own land. They also created a computer lab which allows all members to stay up to date with modern technology,
It is a well sorted and nice clean Peruvian coffee and has certification  besides! At a light roast (full city, 407 degrees) it's smooth and sweet and clean like I expected, but it also has this definite milk chocolate flavor in it. Mellow and easily drinkable --- could sip on a coffee like this all day. 
Medium roast is a nice solid everyday coffee. Nothing too complex, but no bitterness, nice and smooth, creamy, easy drinker. 
Take it deep into the 2nd cracks for a french roast if you like a smoky, dark roasty taste without too much ashy char taste.
Peru isn't a coffee that particularly gets me excited, but this one is above average!
US Arrival September 2018
choosing a selection results in a full page refresh