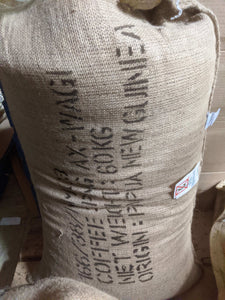 This Papua New Guinea bean from the Western Highlands was grown in Waghi Valley and is of above average quality. It was grown by a co-op of small farmers throughout the area. It does not have organic certification, but Papua New Guinea is organic by law, so certification is not necessary on coffee from here.
The beans are largely made up of the heirloom Jamaica Blue and Typica varietals grown at 4,000+ feet above sea level and also some Arusha varietal. It is sorted by bean size and is the A grade.
This one is nice as a light roast just barely through the first cracks. It was a little bit buttery and creamy, with some tropical fruit notes and tobacco and herbal and chocolate. If you speed the roast up too much it will be too bright and too tart, but when we slowed it down a little (just don't blast the heat, let it take its time), it was smoother and really drinkable. 
The medium roasts are just flat and boring, I feel like you have to go really light or really dark with this one. If you're taking it dark, about 10 seconds into rolling 2nd cracks seemed about right. Does not taste burnt or bitter, but the tobacco and smoke and chocolate and spice comes out, although the body is getting shallow and there's less complexity of flavor compared to the light roasts.

October 2022 arrival
choosing a selection results in a full page refresh