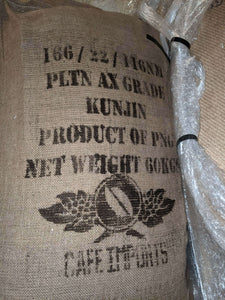 Kunjin is a mill in the Waghi Valley within the Western Highlands. The mill processes and blends the coffee brought in from small farmers in the immediate surrounding area. With that said, the coffee offerings are hit and miss, but this one caught our attention. It does not have organic certification, but Papua New Guinea crops are organic by law, so certification is not necessary on coffee from here.
The beans are largely made up of Blue Mountain varietal, but also some lesser known Arusha and San Ramon mixed in. It is grown at 4,000+ feet above sea level. It is not sorted by bean size, but that's not always a bad thing. It can allow for a very slight variation in roast level within the beans, which makes for a more interesting mug of coffee. It doesn't always work, but with New Guinea coffees, it generally does, and with this one in particular, I wouldn't worry about it in the least.
I love this one as both a light roast and as a dark roast. For a light roast, get it through the first cracks, but don't take it too much beyond that. This bean is complex in taste, sweet, and has exotic fruity notes. I would describe it as grapefruit with brown sugar and toffee sprinkled on it. It's very creamy, buttery. If you get it too light, you'll get some underdevloped flavors of grassy or vegetable notes, so give it a few degrees darker the next time.
As a dark roast, treat it more like a Sumatra. Take it well into the 2nd cracks and get a nice herbal, spiced, sweet, full bodied Indonesian bean. 
US Arrival: January 2021
choosing a selection results in a full page refresh