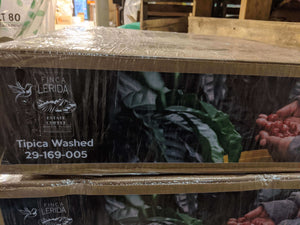 You have to be careful with Panama coffee because the cheap ones - you don't want. The expensive ones -- often overpriced. The good expensive ones? Delicious! So here it is -- a somewhat expensive, but very high quality Panama coffee. It came to us in vacuum sealed bags to keep it super fresh. It's all single varietal Typica. It's not terribly complex, but it's so smooth and drinkable. It will remind you of a Jamaica Blue Mountain with its creamy milk chocolate smooth quality.
Lerida is less of an estate, and more like a tropical rain forest. There are trails throughout the ecological reserve, and over 500 species of birds live here. Exotic fruits and plants are abundant -- and even more importantly -- respected. The coffee growing in the reserve is seen as a bonus, not the primary focus.
The Panama is a delicate bean so be careful with dropping it at high heat -- you don't want to scorch it. You also don't want to overroast it. Keep it out of the 2nd cracks. Even as you approach 2nd cracks, the bean has lost a lot of what makes it special. You really only want to take it about 30-40 seconds past the 1st cracks. This makes it pleasant and balanced, with just hints of black currant and orange and some nice milk chocolate. 
US Arrival: October 2020
choosing a selection results in a full page refresh