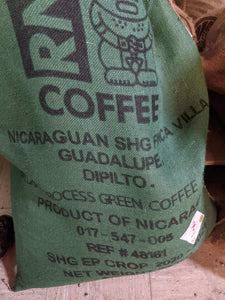 My importer who was born in Nicaragua called me up excitedly and told me that for the last 10 years he's been trying to find a Nicaraguan farmer who could make a delicious natural processed coffee, and this is the one and I need to buy it. So I did, and it doesn't disappoint

It's the most complex, highest rated coffee from Nicaragua I've ever enjoyed. The coffee is best as a light roast, but it holds its own as a medium roast. If you roast it Full City (about halfway between first cracks ending and second cracks beginning), it has a cranberry and papaya fruity flavor. 
There are no defective tastes, no earthiness, nothing unpleasant. It's not as intense and fruity as an Ethiopian Natural coffee, but Nicaragua isn't really known for coffees that blow you away. It's not like other coffees that we currently have in stock, so it was fun playing around with different roasts and brewing methods on this one. On most days, I'd still rather drink a Natural Ethiopia, but I wouldn't turn down a mug of this. I love pouring a mug of this and telling a customer it's a Nicaragua, and they look bored, and then they take a sip.....

US Arrival: October 2021

choosing a selection results in a full page refresh