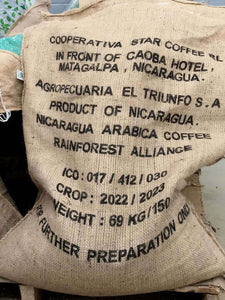 If you're not familiar with fine Nicaraguan coffee, here's the rundown: it's normal coffee, or what you might call "mild" because there's nothing jumping out at you. It has surprisingly low acidity for a Central American coffee, subtle undertones of creamy walnut, sweet and pleasant flavor, with a faint milk chocolate and very faint lemon aftertaste. Its simplicity allows it to be a very approachable coffee, and in roasting it, it is a rather forgiving coffee, lending itself to a variety of roast profiles and levels with good results.

This one is not from a specific estate or anything special, but it is a 5,000 foot altitude coffee growing deep in the beautiful Matagalpa region, carefully sorted and processed, with Rainforest Alliance Certification.
This makes it a fantastic choice for adding flavoring to. Roast the bean just to the end of the 1st cracks, around 400 degrees, and add the flavoring of your choice.
For a single origin brew, choose your personal preference of anywhere from a Full City 407 degrees up to a Full City+ 418
Because it's a high-altitude washed process coffee, it's an excellent choice for French Roast, and you can take it a good 50 seconds into rolling second cracks, to around 444 degrees.
US Arrival March 2023