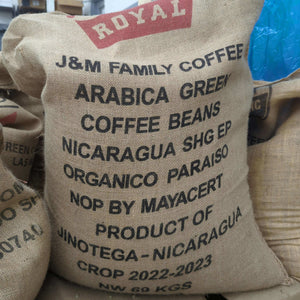 If you're not familiar with fine Nicaraguan coffee, here's the rundown: it's normal coffee, or what you might call "mild" because there's nothing jumping out at you. It has surprisingly low acidity for a Central American coffee, subtle undertones of creamy walnut, sweet and pleasant flavor, with a faint milk chocolate aftertaste. Its simplicity allows it to be a very approachable coffee, and in roasting it, it is a rather forgiving coffee, lending itself to a variety of roast profiles and levels with good results.
It's pretty easy to buy Nicaraguan coffee. The two main regions are Matagalpa and Jinotega, and taste and quality is pretty much identical between them. This one is Jinotega and is the Paraiso farm with organic certification.
Although it's a somewhat "boring" coffee, we do have a lot of customers who enjoy it. It has a mild chocolatey and almond taste to it, is not harsh, is not acidic, and is not earthy. So it fits the bill for "regular coffee" for the average person. It's pretty easy to roast: too light of roasts don't tend to taste sour and too dark of roasts don't tend to taste burnt, so you have a lot of leeway on the roast. Here at the roasting shop, it's our favorite bean for adding flavoring to. Roast the bean just past the end of the 1st cracks and add the flavoring of your choice.
Because it's a high-altitude washed process coffee, it's an excellent choice for French Roast, and you can take it a good 50 seconds into rolling second cracks.
US Arrival: April 2023
choosing a selection results in a full page refresh