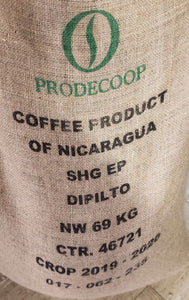 If you're not familiar with Nicaraguan coffees, here's the rundown: surprisingly low acidity for a Central American coffee, subtle undertones of creamy walnut, chocolate, lemon, and pleasant flavor, with a clean sweet aftertaste. A nice every-day drinking coffee, or at least a major component for your Breakfast Blend.
Nicaragua coffee is, in fairness, a rather boring coffee, so keep expectations in check. We roast the bean just 10 seconds or so beyond the end of the 1st cracks to maximize the complexity. It's a forgiving coffee, however, and you can roast it to any level without being disappointed. Feel free to take it up to the 2nd cracks or even beyond. This also makes it a great choice for beginners to learn how to roast or to learn how a new roaster behaves.
If you taste grassy flavors, you got it a little bit too light -- give it a few more seconds in the roaster next time. 
It's a bean that will appeal to just about any coffee drinker because there's no biting acidity, earthiness, or complex tastes that may turn off certain people. 
Because it's a high-altitude washed process coffee, it's an excellent choice for French Roast, and you can take it a good 50 seconds into rolling second cracks, but it does have a little bit thinner body at this roast level.
Nicaragua DIPILTO is sourced from family-owned farms organized as a coop known as PRODECOOP. It provides producers with financing, training, and technical assistance to improve coffee quality. It also strives to improve the quality of life for coffee producers and their families through projects promoting income diversification and education.
US Arrival May 2020
choosing a selection results in a full page refresh