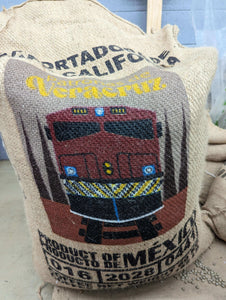 The two main regions of Mexican coffee are Chiapas and Oaxaca. This one is from Veracruz where only a tiny fraction of the coffee production occurs. It's on the Northeast coast of the country against the Gulf of Mexico.
The coffee is grown by the Las Patronas (The Patrons) ("a person who gives financial or other support to a person, organization, cause, or activity.")  It is a charitable organization which has helped tens of thousands of Central American migrants and was awarded Mexico's most prestigious human rights prize. The organization began when girls stood by the train tracks and threw loaves of bread to hungry migrants traveling through Veracruz on a train (hence a picture of a train on the burlap bag).
As a coffee, it's about what you expect from a typical Mexican coffee. It's quite bright, a little nutty, really wakes you up. Good liveliness to it.

Mexican coffee is pretty easy to roast. It can handle a variety of roast levels and can also be blended with good result. We roasted this bean everywhere from very light to very dark, and found that the two middle roasts were our favorite, but all four roasts were drinkable. In particular, I would suggest roasting this one just slightly into 2nd cracks. It gives it the least bitterness and the most balance. If you're a big light roast fan, you'll enjoy it lighter -- don't go TOO light with it, but you can take it out about 30 seconds before second cracks to get a sharper, bright lime, caramel, hazelnut taste profile. Third best option is to take it 60 seconds into 2nd cracks and get the roasty, dark peanut notes of a french roast coffee.
US Arrival: August 2023
choosing a selection results in a full page refresh