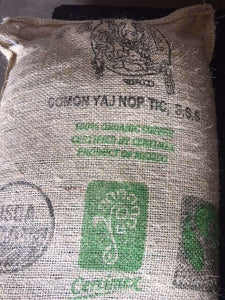 Mexican coffee is not a favorite at our shop, but there are always exceptions, and this one deserves some love.
The two main regions of Mexican coffee are Chiapas and Oaxaca. Both can be nice, but the Chiapas is close to the border of Guatemala and in general has a better reputation than Oaxaca coffees. You want the ones high up the mountain, which this one is. In fact, it is just outside the El Triunfo Biosphere Reserve, one of the world's most diverse forests. The reserve has what's known as a "cloud forest," which is constant low level clouds and almost constant rain/fog/mist which the coffee plants love. The forest is a refuge for thousands of plant and animal species.
The co-op that grew this coffee is called Comon Yaj Noptic which means "All of us Think"
This Mexico coffee shares a lot of traits with a Guatemala Huehuetenango, which is right across the border from it. The lighter roasts are nutty and bright, but not our preference. The darkest roasts are rich and smooth, an excellent bean choice for a french roast. But my favorite roast for this bean is not too far into 2nd cracks -- maybe 30 seconds of snaps...just slightly darker than a Guatemala. At this level we were tasting bright juicy watermelon, red berries, candied lemon. Creamy big body, no earthiness, chocolate and nutty in the aftertaste. One of the nicest Mexican beans to ever pass through the shop. We had it lined up against 4 other Mexican samples, and this one was exactly what we were looking for (but also the most expensive one). We might bring in a less expensive Chiapas as well, but you do get what you pay for. In general, I'd tell you to stay away from Mexican beans, but you don't want to miss this one.
US Arrival: May 2018
choosing a selection results in a full page refresh