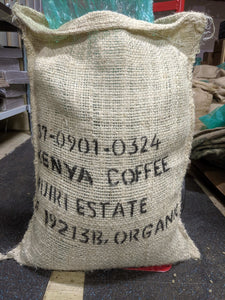 The Muiri Coffee Farmer Co-operative in the Nairobi growing district of Kenya is a group of pro-active farmers who know good coffee. They have broken down a lot of  barriers in buyer transparency, and they have also managed to get their coffee certified as organic, which is nearly unheard of in Kenya. The Muiri co-op is active in promoting fair labor standards, organic farming, and high quality.
This particular lot of beans can be roasted light or medium or dark. Of course it will be most complex as a light roast -- it reminds me of a Tanzania with sweetness and ctirus notes. We like it about 5 degrees beyond when the 1st cracks end. If you speed the roast up a little bit between 300 degrees and 370 degrees it will give it a nice bright acidity, and then slow it down and coast it through the first cracks and sweeten it up. In too light of roasts, you get more tartness, and if you are a couple degrees too dark you get less juiciness.  The coffee does very well as a dark roast -- about 20 seconds of 2nd cracks (or more if you really want to go crazy with it) and you get that roasty taste of dark coffee with underlying sweetness.
This is NOT classic Kenya in the "grapefruit, black currant" sense, but it is certainly a demonstration of what you can get out of a carefully grown, sorted, processed Kenya by farmers that know what they are doing. A very nice, drinkabale coffee indeed.
US Arrival: January 2022
choosing a selection results in a full page refresh