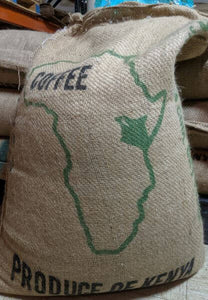 This Kenya comes from the Mugaga county which is in the center of the country, just a little bit South of Kirinyaga. It was processed at the Kagumoini washing mill, which is collectively owned by the thousand farmers who use it to process their coffee. This lot was grown by the Kiru Farmer's Co-op and is a mix of SL-34, Ruiru 11, and Batian varities. We typically avoid Kenya lots of Batian varietal. Batian is a hybrid with SL-28 in it, but much more disease resistant and drought resistant. SL-28 is the holy grail of Kenya coffee, with the classic blackberry acidity and winey taste and thick mouthfeel. We haven't really found Batian to hold its own, but a small proportion in a blend seems to be okay. It does get the cost down, which is always a nice trade-off. Kenya is looking to be VERY expensive this year.

In light roasts, we are getting apricot and lime notes, juicy, red wine, prune, sweetness in the aftertaste coffee. A little bit lacking on the acidity and the body (its a little thin), but I've had far less interesting Kenya coffees that cost way more. I take it about 30 seconds past the end of the 1st cracks. The trick to pull out more acidity is to not stall out during the middle of the roast. Keep it moving along with plenty of heat during the middle, and then slooow it down before the 1st cracks and let it creep through the end of the roast.

But I've also been taking it just into the 2nd cracks to get a deep rich fruity dark roast. It loses all of its brightness of course, but it's an interesting option for a dark roast since Kenyan coffee has so much complexity to start with.

US Arrival August 2021

choosing a selection results in a full page refresh