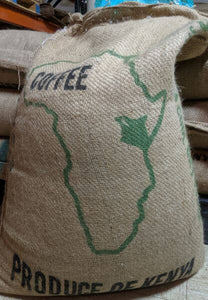 Kiamutira is a mill in Kenya near Mt. Kenya (arguably the best coffee in the country) in the Kirinyaga region.
We've been looking all season for a peach/stonefruit/apricot Kenya coffee, and this one finally stood out. It's pretty easy to roast -- about 30 seconds past the end of the 1st cracks is where you want it. Juicy and sweet, most interesting in a french press which smooths it down and pulls out complexity of peach, white grapefruit, apricot, and floral tones. The acidity is pleasant, not biting, but its presence makes the cup alive. A fruity cup, but not as fruity as an Ethiopia. There is a "juiciness" to the cup and something about it that makes you keep going back for more.
The other roast that works is about 5 seconds into the rolling 2nds. Still sweet, but also a hint of burnt flavor. It's actually a nice balance of sweet and smoky, and very smooth at this level. It loses some of its special characteristics, but the average coffee drinker would find it enjoyable. The fruit goes away, but the body holds up and the sweetness comes through.
USA arrival: October 2019
choosing a selection results in a full page refresh