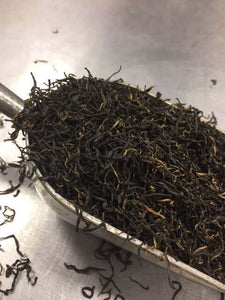 The Anhui province of China grows a black tea branded as Keemun and it is the tea that the Opium War was fought over. Keemun is a satisfying and balanced black tea, in the sense that it is not overly delicate, but not overly hearty. It is rich and luxuriant, mostly smooth, with a subtle cocoa taste. Many who work in the tea business drink a high quality Keemun as their "every day black tea."
This Mao Feng comes from one particular village which is renowned for its tea, and the price of the tea is sky-high, but no wonder a war was fought. Mao-Feng is already scarce, expensive, and highly sought after, and this particular Mao-Feng is even more scarce and incredible. One mug of this tea ruined me for all other Keemuns. Upon drinking this tea, I wanted another. And another. At any price. This mug of tea is unforgettable.
Even the novice black tea drinker has an immediate reaction of surprise when they first taste this tea. It is perfection. So smooth, so lovely in the mouth, so complex, tastes of honey and mineral and caramel entertaining your tastebuds, maybe a hint of floral, a hint of orange, a clean sweet aftertaste reminding you what a great tea you just drank. No astringency. Absolute smoothness and sweetness.
Adding honey or other sweetener is completely unnecessary. It tastes like it already has honey in it. All of our teas are special and worth trying, but this is one I get especially excited about every year.
Tasting Notes: Smooth, Honey, Malty, Orange, Brown Sugar, Subtle Cocoa, Sweet

Steep: 2 tsp of tea for 8oz water. Water temperature: 205. Steep time 3-4 minutes. Sweetener: Optional
Approximately 18 tsp in a 1 ounce package.