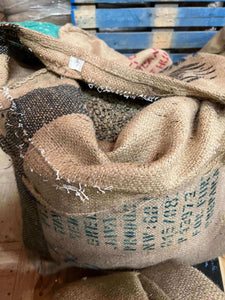 This is a washed process coffee from Java, which makes it cleaner and sweeter than most Indonesian beans. Jampit is one of the large government estates, and it's usually a safe bet for quality. It's a fairly traditional tasting coffee, and we treat it like a Colombia or Guatemala, giving it a medium to dark roast to pull out chocolate and creamy and nutty notes. It doesn't really have strong undertones, but it does have a creamy rich coffee taste that everyone likes.

It's a fun coffee to blend with because it's not overpowering, but brings good body, chocolate, creamy, clean characteristics to whatever you blend it with. A Guatemalan gives it bite. Yemen/Java was the first and still famous coffee blend, or for a cheaper version, pair Java with Ethiopia. Blend it into French Roast to give it body. Put it with Mexican, or another central american, to give it some depth. If your Sumatra is too earthy, blend some Java into it until you get what you're looking for. Java grows a good coffee, really, but in my humble opinion, it can be even better yet with some company.
Roasting tips: it depends what you want to do with it, but the dark end of a medium roast is a good starting point -- verge of 2nd cracks gives you the traditional clean smooth taste that Java is famous for. 20 seconds into the rolling 2nds acts like a super clean Sumatra. Light roasts have acidity and some underdeveloped taste along with hints of almond, chocolate, and peaches.
USA arrival November 2022
choosing a selection results in a full page refresh