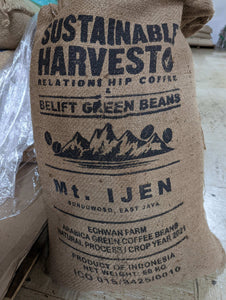 Most of the Java Island coffee is grown on government estates, but the Ijen volcano complex is a bizarre place in East Java where sulfuric gas is steadily emitted from a crater, and the gas is on fire, and always burns blue. There are incredible night-time photos of the blue flame glow in the middle of a circle of volcanic mountains around it. 
Anyway, this coffee came from the Bondowoso Mountain in this Ijen complex, and was cultivated by independent villagers who are passionate about growing coffee.

You want to keep it as a light roast, not much darker than a natural process Ethiopia. There's some apple and floral notes, it is not earthy, it has sort of a juicyfruit mix of flavors. It's pretty easy to roast, just don't take it too dark.

In short, this is a more interesting Java bean than most. It holds its own and makes a fun alternative to sundried natural coffees from Africa.

US Arrival Oct 2022
choosing a selection results in a full page refresh