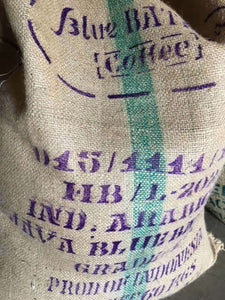 This coffee was grown by the Batavia co-op, and they brand their beans as Blue Batavia. Well sorted, low chaff, nice blue-ish colored beans. We don't always buy a coffee from Java, but this year's batch stood out with its baker's cocoa undertones, a tangy molasses flavor, and hints of citrus.
In medium roasts you can taste almost some grapefruit and it has a nice balance of acidity with body and complexity. But we like to take it 20 to 30 seconds into the 2nd cracks which flattens most of the acidity and kills most of the citrus, but leaves a full bodied chocolate sweet coffee that is really satisfying and drinkable. It is great no matter how you brew it, but particularly a treat in a chemex, as a french press pulls out some earthiness, but drip brewing doesn't pull out as much complexity as a manual pourover. You can Italian Roast this coffee as well, getting it all nice and shiny with oils but without tasting unnecessarily bitter and ashy.
It also makes a great mokka-java blend when you pair it 50-50 with the Ethiopian or Yemen coffee of your choice.
Java tends to make great espresso and adds depth to an espresso blend because it doesn't have the earthiness that can cause Sumatra to overpower an espresso shot. Try blending it with 30 - 50% of a natural process or honey process bean to really make a satisfying shot.
US Arrival November 2017
choosing a selection results in a full page refresh