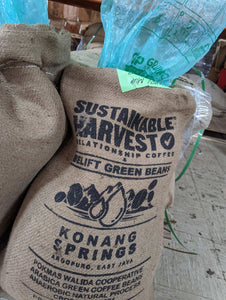 Most of the Java Island coffee is grown on government estates, but Argopuro is a mountain with a private village co-op of farmers on it, passionate about coffee and experimentation.
Not only is it a natural-processed bean, which is a complete rarity coming out of Java, but is also anaerobic processed. This enhances the natural spice notes of the Java beans.
Best as a light roast -- remember it is a sundried natural, so you have to keep it light, just out of first cracks.  We get a grapey, juicy, peppercorn, sweet, floral. A little bit of that anaerobic cidery kick, and it's really nice, but not at all like normal coffee. This one is for the adventurous.
US Arrival May 2022
choosing a selection results in a full page refresh