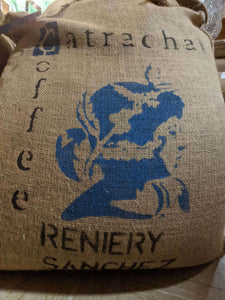 This is a microlot from the Santa Elena Catracha co-op which is a non-profit group that joins the local farmers together and invests back into the community to improve the prosperity of those farmers. This particular lot was grown by one farmer, Reiniery Sanchez. They liked his coffee so much that they kept his coffee separate from the rest, put his name on the bag, and really celebrated it. The official tasting notes are Candied Mango, Apricot Jam, Banana Pudding, Black Walnut, Vanilla Ice Cream.
Now I must be doing something wrong, because I'm not tasting any of that. I'm roasting it like a Colombia (medium roast, just at verge of 2nd cracks), and I'm getting honey sweetness, slight nuttiness, slight milk chocolate, creamy mouthfeel. It's altogether pleasant, and the sweetness is definitely above average, but to me, the coffee is not terribly complex. 
But for what it's worth, this was a tough year to find anything nice out of Honduras, and this is a nice coffee from Honduras, and maybe you will even roast it better than me and find all of those hidden flavors in it. 
US Arrival August 2021
choosing a selection results in a full page refresh