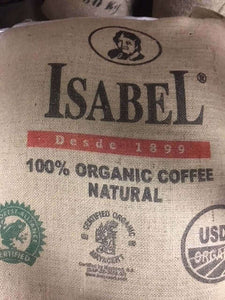 The Santa Isabel estate is one of the most respected and conscientious estates in Guatemala. They are in the Santa Rosa region, are completely organic, and even have a protected nature reserve on their farm. The coffee estate has been in the family for 4 generations, and quality and experimentation is their never-ending quest. In addition to their large main crop, they process a very small amount of Natural (Dry-processed) coffee each year, and it's very hard to obtain. It sells out the day it is announced to a handful of us who are on the calling list (it took me three years to even get on that list). Natural processed coffee out of Guatemala is not something you're likely to find very often anyway, but this one makes me wish it was a more common practice.
My buyer visited the farm and assured us that it is as responsible and amazing as we thought. This natural processed microlot is the farmer's "baby" --- his pet project that he especially pours his love into. He is fluent in English, so we have been able to communicate directly with him.
I really can't say enough good things about this coffee. It has a creamy white chocolate taste with strong raspberry aroma and a more subdued cherry taste. You generally want to roast this bean light, like you would most Dry Process coffees, but the body holds up even in this light roast and the white chocolate tones are most apparent and it's quite smooth and sweet. You also will notice some vanilla, and some fruit notes. If you get it a little too dark, you start noticing a campfire smoky flavor that distracts from the sweet fruit. However, take this almost to 2nd cracks or just into 2nd cracks and pull a shot of espresso with it. As espresso, you get a nice sweetness and fruit without the extreme sour and brightness usually accompanying that flavor profile. I highly recommend it as espresso. And if you are a french roast fan, even deep into the 2nd cracks, it's an amazingly sweet, subtly fruity french roast that stands off the table.
In past years, the appearance of the coffee was variegated and ugly, but that's the nature of dry-processed coffee. However, the farmer changed a couple of steps in the processing to make the coffee much nicer looking this year with better sorting and less time being sundried. As a result, the green coffee LOOKS better than ever and roasts very evenly.

US arrival April 2021
choosing a selection results in a full page refresh