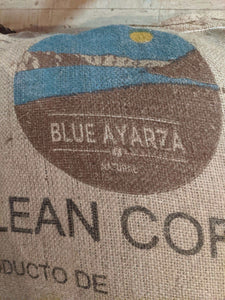 Ayarza is a region south of Huehuetenango and we don't often see coffee offerings from there, but this one producer Francisco Najera is passionate about his coffee and really impressed us with his harvest. He's 30 years old with two children and has been working in coffee for 15 years. He grows his coffee on a volcanic lake known as Laguna Azul and the lake is full of legends. Supposedly it is so deep that no one has ever found the bottom.  Supposedly the mermaids in the lake take one male swimmer every year.  Supposedly there is a white rock of a petrified woman who didn't obey Jesus. You get the idea. This is a wild remote legendary land and has the potential for great coffee which Francisco has tapped into.  
We bought his washed process coffee last year and really enjoyed it, so this year we jumped on his sundried natural process coffee. I like roasting sundried Central American coffees a tad darker than sundried Ethiopian coffee, and they tend to really shine as espresso. As coffee you get some blackberry and citrus sweetness, but as espresso it is much more intense and complex. Nice on its own, or also nice blended with some Brazil to mellow it out.
The darkest you can go with it is a medium roast where you would take it just to the verge of 2nd cracks, but you're going to start running into some bitterness at that roast level.

USA Arrival August 2021
choosing a selection results in a full page refresh