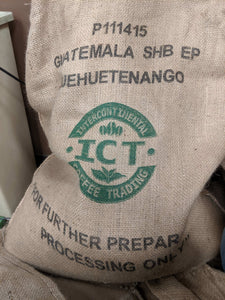 The farming region of Huehuetenango (pronounced way-way-tenango) has greatly improved quality over the past decade, making it one of our favorite in the country. The region borders the Mexican Chiapas mountain range, so it's grown at higher elevations than any other region in Guatemala.
La Providencia grows coffee at altitudes around 5,000 feet above sea level.The family farm is in its third generation of ownership and cares about its long standing reputation for quality coffee.
We roast this about 5 to 10 seconds past when we very first hear some 2nd cracks. At this medium roast level, you get a graham cracker, vanilla, and almond taste profile, with slight sweetness and overall smooth finish and a little earthiness. You can, however, take it a little darker if you're used to that, and you still get the normal Huehuetenango result of a chocolate/vanilla/medium-dark roast. You can drink it straight, but we mostly are blending with it, because it's a little boring but does lend a nice chocolate note to blends.

USA Arrival June 2020
choosing a selection results in a full page refresh