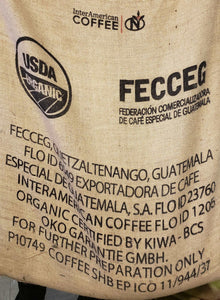 The growing region of Huehuetenango (pronounced way-way-tenango) is on the border of Mexico and is some of our favorite Central American coffee because of its chocolate and nutty tastes. This one is from a co-op called FECCEG which has a presence across the whole country and helps farmer band together, gets them Fair Trade and Organic certifications, and helps them get their coffee to the global market. 
This lot of Guatemala caught our attention in particular for two reasons. First is how creamy, silky smooth the mouthfeel is on it. Second, is the chocolate-nutty taste that makes it delicious to drink.  It is really such a nice flavor to find in a coffee.
I roast it exactly 15 seconds past the first snap of the 2nd cracks. I wouldn't take it much darker than that because it will start to taste thin and bitter; but in slightly lighter roasts (not quite to 2nd cracks, for example), you get a little bit of fruity/winey tastes that complement it very nicely. However, you have to be careful taking it lighter as it is likely to taste grassy and vegetal if you don't get it pretty close to the 2nd cracks.
US Arrival May 2021
choosing a selection results in a full page refresh