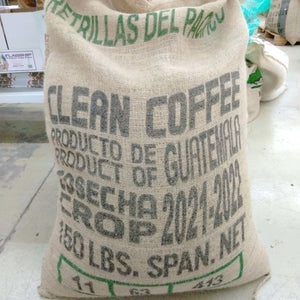 The farming region of Huehuetenango (pronounced way-way-tenango) has greatly improved quality over the past decade, making it one of our favorite in the country. The region borders the Mexican Chiapas mountain range, so it's grown at higher elevations than any other region in Guatemala. Huehuetenango coffees tend to have chocolate and citrus undertones, and many of them suffer from a thinner body, but the highest altitude lots are the best bets for the best mouthfeel, and this one has a nice creamy mouthfeel that stood out to us.
ASDECAFE is an umbrella group that helps several co-ops within Huehuetenango achieve organic and fair trade certification, as well as improve coffee quality. ASODIETT is one of their co-ops within the ASDECAFE group, and that is where this coffee came out of. It is based in the town of Todos Santos Cuchumatan in the Tuiboch village at an altitude of over 4000 feet. The farmers grow bourbon and caturra varietals.
These beans are easy to roast. They follow a normal roasting curve and the sweet spot is 10 seconds into the 2nd cracks where you find a creamy milk chocolate almond mug of coffee.
If you think you don't like Guatemalan coffee because of their tendency to be harsh, this one might change your mind. Huehuetenangos are right up there with Atitlan and Acatenango coffees. Year round, it is one of our best sellers.
USA Arrival June 2023