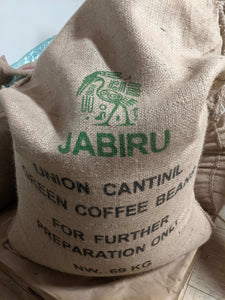 The farming region of Huehuetenango (pronounced way-way-tenango) has greatly improved quality over the past decade, slowly overtaking the more famous Antigua region in popularity and demand. The region borders the Mexican Chiapas mountain range, so it's grown at higher elevations than any other region in Guatemala. Huehuetenango coffees tend to have chocolate and citrus undertones, and are really smooth -- neither harshness nor bright acidity of an Antigua. This one comes from the very small Union Cantinil co-op and they brand it Jabiru out of respect for a majestic stork which is native to the area.
I am especially fond of this one at Full City+, taking it 10 seconds into the second cracks for a smooth, low acidity coffee with a lot of chocolate, slight almond nuttiness, and a sweet aftertaste. It also makes nice cold brew. Light to medium roasts are not my recommendation for a Guatemala Huehuetenango. And if you take it too dark, it will start to burn.
If you think you don't like Guatemalan coffee because of their tendency to be harsh, this one might change your mind. Huehuetenangos are SMOOTH, sweet, and quite satisfying. Year round, it is one of our best sellers.
This lot is a fantastic value for the price point. It has a fuller thicker body than most Huehuetenangos, and a more pronounced nutty and chocolate taste than you would expect for the price.
USA Arrival August 2020
choosing a selection results in a full page refresh