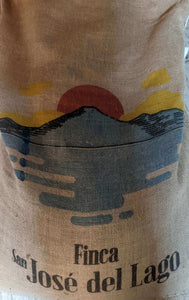 Atitlan is a lake in south central Guatemala in the Huehuetenango region. It is surrounded by volcanoes and mountains and produces some of the most interesting and flavorful coffee in the country.
We've been anticipating this shipment, and the good news is that the coffee is fantastic. Nice looking beans without much defects. Roasts easily and forgiving. Tastes like candied orange with milk chocolate sweetness. Not much acidity -- very smooth. Creamy mouthfeel. Lingering aftertaste but no earthiness. We are really happy with this coffee.
So to roast it, you have a range from Full City (maybe 30 seconds past the end of the 1st cracks) to Full City+ (just one or two snaps of the 2nd cracks). If you take it darker than that, it will burn and be unpleasant. Both Full City and Full City+ roasts have the orange and chocolate tastes, but the darker roasts will be creamier/chocolate and the lighter roasts will be more citrusy.
Eduardo Cabrera's farm is a small family farm that is now being managed by its fourth generation of family members. They love coffee and have passion and experience to produce some of the country's best harvests. They are situation right on Lake Atitlan, on volcanic soil, at high altitude, growing just single varietal Bourbon, and processing it on site. This year's harvest is certainly a fine example of their efforts.
US Arrival: April 2023
choosing a selection results in a full page refresh