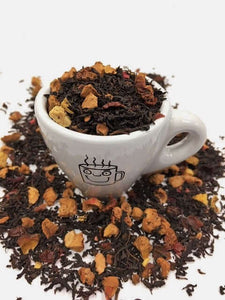 We start with a high quality Indian black tea and add fruits and flowers to give a good balance of flavor. Peach iced tea is a classic summer refreshing beverage, so we kept that in mind when making this blend; but of course you can also drink it hot and it is tasty both ways.
Ingredients: Black Tea, Apple, Rose Hips, Pineapple, Lemon Verbena, Chamomile, Apricot, Natural Peach Flavor
Certified Organic
Tasting Notes: Refreshing black tea with the sweet juicy flavor of fresh peaches.

Steep: 1 tsp of tea for 8oz water. Water temperature: 205. Steep time 3 minutes. Sweetener: Recommended
For Iced Tea: 5 Tbsp of tea in 32oz of water, Water Temperature 205. Steep time 5 minutes. Sweetener: 1Tbsp sugar

Approximately 10 TBSP in a 1 ounce package.