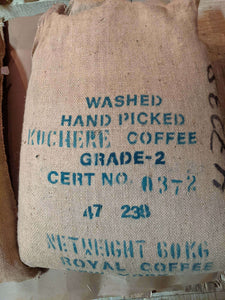 Washed processed Yirgacheffe is the taste of sunshine, botanical gardens, and happiness. This is from the Kochere mill, which we highly anticipate the arrival of each year. This area grows some of the highest regarded and most expensive Yirgacheffe beans, grown around 6000 feet above sea level. This crop was packed in grainpro bags to seal in and preserve freshness and is labeled as Grade 2.
Generally speaking, Yirgacheffe coffees have a floral and lemon flavor — sweet, juicy, bright, floral, tea, citrus (think jasmine, lemondrop) -- and that holds true here. You smell the sweet flowers as soon as you grind it. You taste lime and lemon. It's bright, and has a strawberry taste in the finish. Kochere has a great washing station, very careful about the sorting and drying times and moisture content. There is an extra layer of flavors here that keeps it interesting from start to finish. The flavor changes as the temperature of the coffee changes, which makes every sip fantastic.
Best when roasted light, I follow the same profile as a natural Ethiopia, although being a washed process coffee, this Yirg takes just a little more heat to keep up with that roasting curve and it cracks a couple of degrees later, so it needs a couple degrees hotter before you let it out. I barely take it past the first cracks, a City Roast. Just after the first cracks come to a complete stop and you've slowed the roast way down, I turn the heat down to where the bean temp is just stalling out right around 400 degrees, and I'm done. There's no earthiness, and no defective tastes. However, if you want to roast this as more of a medium roast you totally can. Since it's a washed process coffee, you can take it as dark as you want. It holds its sweetness even though it starts to lose its complexity.
I tend to strongly prefer natural processed Ethiopia coffee over washed processed ones, but this coffee is satisfying and makes me smile.
US Arrival August 2022
choosing a selection results in a full page refresh