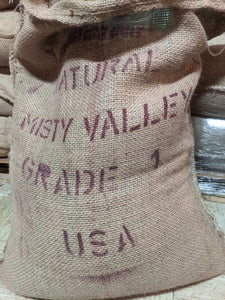 This is the NATURAL (Dry processed) Yirgacheffe coffee from the legendary Misty Valley mill (later known as IDIDO). Nothing is too good for these beans. They are stirred non-stop for the first 48 hours on the drying patio using rakes, and then they are sorted, sorted, sorted until they have achieved Grade 1 status which is rare for a natural coffee from Ethiopia. The result of all this care is that you have a flawlessly clean tasting coffee with sweet fruity tastes and aroma. 
We didn't think it was quite as good as some years, but you can't really go wrong with an Ethiopia of this quality. The overwhelming fruit is lemon, but there is berry in there as well, and a peach and nut flavor in the background. Crisp and clean with good body and acidity. Grind them and enjoy the aroma of the grounds. Drink it slowly and methodically, savoring the unusual but special fruity sweetness that the average coffee drinker has never experienced.
Roast this like you would any other natural process Ethiopia. It's not a big deal to be off a few degrees one way or the other, but it seems to be a little flat and boring right out of the roaster. By the next day it blossoms into the sweeter fruitier coffee that you were expecting. If you're getting more tartness than you want, you're letting it out a little early. If it seems flatter than you expected, you're a tad dark.
It came into port in July 2021
choosing a selection results in a full page refresh