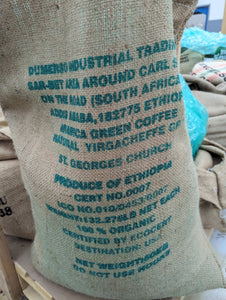 This is an uncommon NATURAL process (sundried) Yirgacheffe coffee from the subregion of Gedeo, processed by the Dumerso mill, which has about 700 farmers in the region that it processes coffee for. They are sorted, sorted, sorted until they have achieved Grade 1 status which is becoming more common but still rare for a natural coffee from Ethiopia. The result of all this care is that you have a flawlessly clean tasting coffee with sweet fruity tastes and aroma.

The main flavor is cocoa, but it is dependent on how you roast it. The other flavors of tropical fruit, lemon and ripe dark fruit become more or less apparent as you tweak the coffee a degree darker or lighter on subsequent roasts. The coffee has a medium body, no earthy or fermented tastes, but a sweet aftertaste that lingers sweet and fruity. Drink it slowly and methodically, savoring the unusual but special fruity sweetness that the average coffee drinker has never experienced.

Roast this like you would any other natural process Ethiopia, except maybe a degree lighter for the final bean temperature when you let it out of the roaster. If the lime zest, juicy citrus notes are too potent and almost taste vegetal, take it a degree darker next time. Take it a degree darker yet and you have a dark fruit note with a lemon/lime zestiness. A degree darker than that and you have overall fruity sweetness but the flavors become less distinct and it's a great cold brew option. Being a natural processed coffee, you shouldn't take this coffee into the 2nd cracks as you get unpleasant bitterness. We are taking this to about 399 degrees on our roaster and 25 seconds or so after first cracks end.
US Arrival June 2023
choosing a selection results in a full page refresh