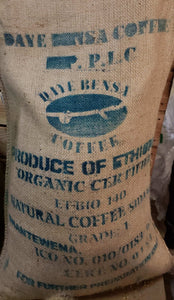 The Sidamo region of Ethiopia is a high mountainous area within the Yirgacheffe region, so the taste profiles tend to be similar, especially in the washed coffees. But this is a natural (dry-processed) Sidamo which tend to have red berry flavors and citrus fruit notes.
This one won 7th place in last year's Ethiopia Cup of Excellence. It is grown by a co-op of farmers in Shantawene Village who had their coffee processed at the Daye Bensa Mill. It is a sweet, true Sidamo with the characteristic fruity flavors. No earthiness or astringency, but juicy candy-like flavors of Strawberry, Watermelon. Some milk chocolate. I'm really happy with it.
As with any natural Ethiopia, you want to keep this coffee very lightly roasted. 20-30 seconds after the 1st cracks have stopped is our sweet spot. It's very forgiving to roast and tastes good even if you stall out the roast or don't let it out of the roaster at exactly the right time. Erring too light will make it a little savory with pomegranate seed and basil notes. Erring too dark brings out more chocolate notes.
If you take it too close to the 2nd cracks, it builds up a bitterness that is unpleasant, so this bean is for light roasts unless you are going to use it in your espresso machine, in which case you can roast it darker (beginning of 2nd cracks) to get a fruity espresso. It is also is an ideal choice for the "Mokka" half of your Mokka-Java blend.
US Arrival June 2023