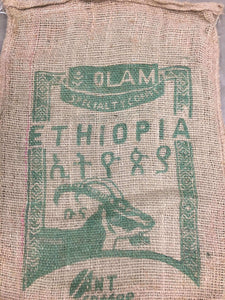 The Sidamo region of Ethiopia is a high mountainous area within the Yirgacheffe region, so the taste profiles tend to be similar, especially in the washed coffees. But this is a natural (dry-processed) Sidamo which tend to have red berry flavors and sometimes lemon, milk chocolate, or tea-like characteristics.
This one is grown by a co-op of 700 farmers who had their coffee processed at the Addis Ababa Mill. It is a sweet, true Sidamo with the characteristic fruity flavors. No earthiness or astringency, but juicy candy-like flavors of cherry, grape, watermelon. Some milk chocolate. I'm really happy with it.
As with any natural Ethiopia, you want to keep this coffee very lightly roasted. 20-30 seconds after the 1st cracks have stopped is our sweet spot. Erring too light will make it tart. Erring too dark will make it bitter.
If you take it very far into the 2nd cracks at all, it builds up a bitterness that is unpleasant, so this bean is for light roasts unless you are going to use it in your espresso machine, in which case you can roast it darker (beginning of 2nd cracks) to get a fruity espresso. It is also is an ideal choice for the "Mokka" half of your Mokka-Java blend.
US Arrival September 2017
choosing a selection results in a full page refresh