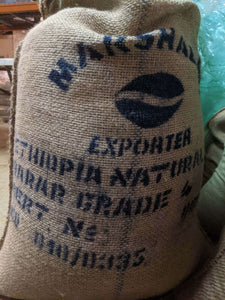 Harrar coffees are generally natural process coffees like this one. This lot is Grade 4 which is the lowest grade offered for natural processed Ethiopia and they tend to be murky or earthy.  It's not impressive as coffee, but we brought it for our espresso blends -- as espresso it has sweet, fruity, and juicy berry notes. No over-fermentation tastes. Not too sour. The beans are smallish and look very nice for a natural coffee.

But if you brew it as coffee, it's not offensive, but it's really boring. Hardly any fruit or complexity at all. A little bit of chocolate, a little bit of earth. We can't coax much blueberry or sweetness out of it.
We are roasting this coffee fairly light. Being a natural processed coffee, they are more fragile and need a little less heat at the beginning. The roast wants to race -- you have to keep it paced, slowed down without stalling it out. And it needs to come out a couple degrees sooner than you would roast a washed process coffee. We are taking it maybe 30 seconds past the end of the 1st cracks.
US Arrival July 2021
choosing a selection results in a full page refresh