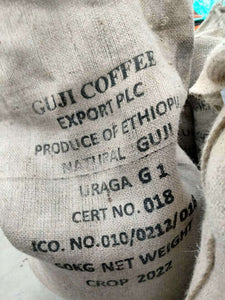 The Guji Region is one of the most remote coffee regions, but also produces some of the most legendary coffees. This one came from producer Sayfo Jago and surprised us with the complexity and interesting flavors coming through.

Sayfo was born into a coffee family and now runs his own farm, both managing the harvesting and processing of it. This particular lot won the Good Food Award.
This lot is of uncategorized heirloom varietals and it has both sweet fruit (peaches, berries) and a bready note (tastes like the crumble on a peach cobbler) It's a Grade 1 sort and very clean tasting and consistent to roast. You want to roast this like you would any other natural processed Ethiopia coffee and don't take it too far out of first cracks or give it too long of a roast.  
October 2022 arrival in USA.
choosing a selection results in a full page refresh