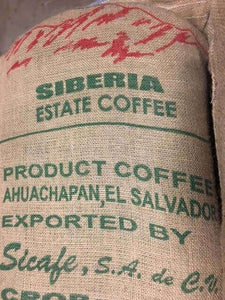 This is the Red Bourbon varietal from El Salvador, and not just that, but it is from the legendary Siberia Estate in the Santa Ana growing region.
The farm: Siberia Estate was named as such because it is 4000 feet up a treacherous mountain, making it remote and difficult to reach. They have been growing coffee here since 1870, and it is now being farmed by the 4th generation of the same family that founded it. At that time, there were no roads or paths into the mountains here, and the farmer walked up and down the mountain several times those first few years.
It is super nice coffee -- it was well sorted and roasts evenly. Has a nippy acidity, a sweet cocoa nut, aromatic, and oh-so-drinkable -- a coffee that no one would ever turn down -- but with subtle flavor notes that you don't really think about but stick with you long after the mug is empty. We are roasting this under the same profile as a Costa Rican (this is a washed coffee, and roasting it any lighter as if it were an Ethiopian is going to give you a sour taste) This Full City roast (409 degree bean temp on our roaster) gives it the most complexity. It has a nice thick full body, smooth and creamy in the mouth. The chocolate comes out in the finish. A lot of sweetness in the middle, with subtle red fruit and melon also catching our attention.  If you take the roast darker, or even all the way up to the verge of 2nd cracks, it is still a smooth drinkable enjoyable coffee in every way, but the complexities which are already subtle, almost disappear. It is such a hard, dense, large bean that you absolutely can roast it darker yet, well into the 2nd cracks, and it is still remarkably smooth, sweet, and clean tasting coffee.
US Arrival: October 2021
choosing a selection results in a full page refresh