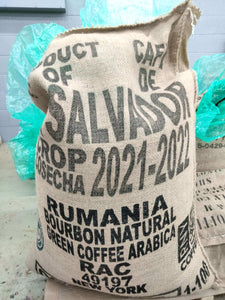 This El Salvador is a natural processed microlot on the Santa Josefita estate which is 4000 feet up in the mountains near to Guatemala. This is the Bourbon varietal which is one of the nicest Central American varietals, but becoming less common because of its lower yield per plant.
The farm divides its harvest into washed, honey, and natural coffee processing. This year we are stocking the washed and natural process beans.
While El Salvador tends to not be a particularly exciting coffee origin, this one is far higher quality than the common export. Finca Santa Josefita is proud to have been awarded the Cup of Excellence 3 times!  It is certified by Rain forest Alliance, which observes the environmental, economic and social aspects of the coffee production. The farm conserves a natural rain forest, which is hundreds of years old and serves as a habitat for many diverse animal species.
In the very lightest roast just 15 to 20 seconds out of the first cracks, you find an apple juice aroma, and sweet fruity tastes like apple, pear, black cherry.  It's not as fruity as a natural Ethiopia nor as acidic, but it does have a very pleasant fruity sweetness to it. 
I recommend roasting it like a natural Ethiopia. For us it roasts under the same roasting profile parameters as a fruity Ethiopia. Light roast -- 15 to 20 seconds out of the first cracks -- lots of airflow.
USA arrival: May 2023
choosing a selection results in a full page refresh